Water Falls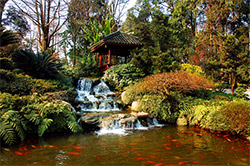 There are numerous elements and features that can be added to your property to make it look attractive and alluring and waterfalls are elements that add an undeniable charm to the place. We at J. Kanka Lawn and Landscape have specialized waterfall installers who can create water features that make the area look alive and fresh. We can also combine these with rills and ponds and can build them into natural rockscapes.
The rockscape may be made up of one large drop or several smaller plateaus. Many homeowners in the Cedar Park, Leander and Lakeway areas request us to place a lush landscape that is full of small plants & larger trees around the waterfall, which gives it the look of a verdant mini-forest.
Customized Solutions
Since every waterfall design we create is customized, we are also able to create designs that complement the look of the landscape and your home. For instance, if your home has a contemporary design, we can build waterfalls that are made of marble or granite. On the other hand, if your home has been designed in a more rustic style, we can create waterfalls that are made of natural stone. We can also decorate the trough with mosaics and sculptures or any other elements to create an elegant effect.
More than Aesthetics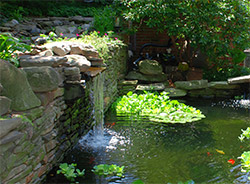 Many people feel that waterfalls are no more than aesthetic elements and that they will only beautify the place. But they have some distinct functional benefits as well. The perpetual vapor that is produced by these water features is very effective in eliminating pollen, pet dander and dust that is in the air. All these particles float in the air and can cause various allergies. In areas that are more dust prone, waterfalls can very effectively create a protective field and help in cutting down some of the dust.
They have a very serene sound and motion and can be used effectively to block out the noise of traffic if your home is located in a busy neighborhood. Waterfalls also increase the humidity of the area they sit in. This makes it easier to keep your plants healthy & thriving. Thus waterfalls can be very important in landscapes that have a large number of plants and shrubs.
Oxygen and More
In addition to all these functions, waterfalls are a very important part of any landscape that has fish. Today, many homeowners in and around Horseshoe Bay opt for Koi ponds and a waterfall is a very essential element of this structure. It creates a very relaxing space in the yard. Very importantly, the motion of the waterfall is a very aesthetically pleasing method of adding oxygen to the pond at its base and this provides the hardy Koi fish a constant supply of oxygen.
Once you contact J. Kanka Lawn and Landscape on 830-613-7130 for the installation of a waterfall, you know that you will have the most attractive element in your landscape. We will provide you with the most alluring and cost-effective waterfalls in and around Horseshoe Bay.
We Provide Services to the Following Cities and Towns in TX:
Austin, TX
Horseshoe Bay, TX
Marble Falls, TX
Kingsland, TX
Spicewood, TX
Bee Caves, TX
Highland Lakes, TX
Lakeway, TX
Westlake, TX
Sunrise Beach, TX