Fertilization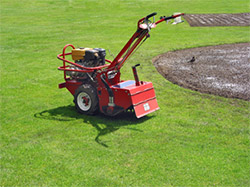 Shrub, plant and tree fertilization are extremely important in urban as well as suburban areas and there are many regions in which the soils have got altered because of construction activity. There are times when the soil is heavily compacted, poorly drained, has very low levels of organic matter and is also very poorly aerated. Even in areas where the soils have not been impacted, fertilization may be required as a standard part of a landscape maintenance program to improve root/top growth and increase plant vigor.
J. Kanka Lawn and Landscape can provide you with customized and cost-effective fertilization and maintenance programs that will keep all the softscaping on your property well-nourished and looking fresh at all times. A good fertilization maintenance program includes regular monitoring as well as controlling of various disease problems and making all the timely applications of mulch and fertilizer.
The Signs
It goes without saying that any garden or yard will look good and be healthy only when it is well irrigated. There are some tell-tale signs that will indicate that your garden needs fertilization. Visual inspection of shrubs and trees is generally the best overall factor that can be used to make fertilization decisions. These are the things that you should look out for:
Chlorotic/ poor leaf color (pale yellow or green)
Reduced leaf size & retention
Premature leaf drop and fall coloration
Reduced branch & twig growth and retention
Reduced overall plant growth & vigor
We work very closely with our supply partners and provide all our customers with customized fertilization programs. Our expert, licensed and trained applicators follow our specialized program guidelines and optimize the benefit for you. We have devised season-related programs that ensure that your garden and yard gets the best out of the treatment.
Late Spring or Early Summer
The early spring treatment promotes spring green-up as well as recovery from all the winter stresses. For the lawns we provide a very balanced fertilizer that promotes color and thickness, as well as overall good health. We also provide all the plants with suitable organic fertilizers and stay away from harsh, chemical –based fertilizers.
Late Summer or Early Fall
During the hot summer months, we utilize our specially-designed summer fertilizer as the climate is very dry. During the fall, the lawn and plantings require well-balanced feeding to effectively recover from the stresses of summer. This application encourages recovery and greens up your lawn. Consistent and regulated feeding even into late fall encourages texture, thickness and color as well as the overall health of your lawn and plants.
All our services are highly specialized and expertly formulated. J. Kanka Lawn and Landscape personnel are highly-trained and professional. We provide services in Horseshoe Bay and surrounding areas such as Lakeway, Leander and Cedar Park, where we have hundreds of satisfied and repeat customers. You can contact us on 830-613-7130 for the best fertilization services.
We Provide Services to the Following Cities and Towns in TX:
Austin, TX
Horseshoe Bay, TX
Marble Falls, TX
Kingsland, TX
Spicewood, TX
Bee Caves, TX
Highland Lakes, TX
Lakeway, TX
Westlake, TX
Sunrise Beach, TX