Ponds & Fountains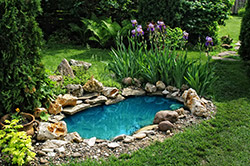 Landscape design includes various elements and water features such as ponds & fountains are popularly used to create effective and impactful outdoor spaces. Today, there are a number of options you can choose from and fountains can be with or without ponds. The pond-less fountains are very low maintenance as there is no pool of water that has to be filtered or cleaned. For those who prefer it, falls/ rills can be added to improve the look of the entire design. Rills are essentially shallow pools that flow in a specific direction or have been designed to establish a certain space in the yard.
About Ponds
They can also build above ground into stone or metal channels or even below the ground. However, almost every design will be centered on a base pond. A pond can be constructed with almost any design. You can choose from a stone-built one to a structure that has a sharp, angular or asymmetrical and contemporary build. Generally, the natural-looking ponds are designed with a dynamic rockscape or a lush landscape for a complementary effect. But the installation of a pond has to be actioned in an expert manner or else it can look artificial and that will take away its charm.
We at J. Kanka Lawn and Landscape have the expertise to create the most natural-looking ponds which can have living elements like water and fish. The look of these ponds can also be enhanced by adding a rock design and the energy and tranquility that this adds to the space is truly amazing. We can also customize the size and shape of the pond to make it fit perfectly in your garden/yard.
About Fountains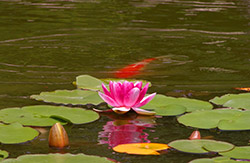 Fountains are very versatile water features and they can be designed in various looks and patterns. They can also be made of different materials and can be installed with or without ponds. We can design fountains in the classic, baroque or Romanesque style or just about any style you want. These fountains become the focal point of the garden or yard and you can also have accent pieces added for more effect.
Contemporary Styles
J. Kanka Lawn and Landscape have created the most stunning fountains for many homes in the Lakeway, Leander, Cedar Park and Horseshoe Bay areas and contemporary designs are in great demand. Some homeowners prefer pieces made of marble or dark granite and the stone ones are an all-time favorite. With the kind of expertise that we bring to the designing and installation of ponds & fountains, it is no surprise that we have repeat clients and numerous referrals.
Regardless of whether you have chosen to add a pond or a waterfall to your landscaping, call us on 830-613-7130 for the best pieces and the most artistic designs. Creating stunning landscapes is our forte and we assure you that you will have the most unique gardens in the neighborhood. Do not settle for anything but the best. Contact us for the most masterfully designed and impeccably installed ponds & fountains.
We Provide Services to the Following Cities and Towns in TX:
Austin, TX
Horseshoe Bay, TX
Marble Falls, TX
Kingsland, TX
Spicewood, TX
Bee Caves, TX
Highland Lakes, TX
Lakeway, TX
Westlake, TX
Sunrise Beach, TX