Drainage Solutions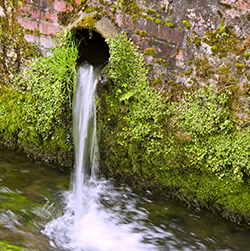 Landscaping is a very specialized field and it is much more than putting together various hardscaping and softscaping elements. It's a lot about creating the right balance in various aspects including drainage and irrigation solutions. In some places the land might be flat, the water table high or the soil dense. This makes a well-planned and installed drainage system, the top priority.
Without appropriate drainage solutions in place, the water might collect and can drown expensive plants or undermine structures. It can also turn areas of your newly installed landscape into constantly wet swamps. There are times when a novice landscape designer might overlook backyard drainage entirely and the grading might affect the drainage system.
Hiring the Experts
This makes it crucial to employ specialists like J. Kanka Lawn and Landscape. Apart from Horseshoe Bay, we have been handling landscaping and drainage solutions for cities such as Lakeway, Cedar Park and Leander for a number of years. We analyze the exact nature and condition of your yard, and might also "shoot the grades" in order to establish the exact topography regardless of how flat the site seems. We take great care to identify all the problem spots and then use our knowledge, expertise and experience to provide you with customized solutions.
Types of Issues
Another important factor in drainage is groundwater. This is correlated to rainfall patterns. In some areas the water table is just under the surface and it limits planting options and creates different kinds of problems for construction. If the drainage is not up to the mark, the area can get flooded and if there is heavy rainfall, this adds to the potential damage. We handle all kinds of drainage issues such as:
Surface Water- There are times when a property that has clay soil will suffer from issues like lingering surface water. Typically, this happens because the builders sometimes get the grading wrong and this leads to the trapping of water. We might solve this issue by constructing a French drain.
Hardpan- In areas where hardpan layers are present, the complete property might suffer poor drainage & there could be pools of standing water on different spots in the garden or yard. In this case, we create site-wide grading and design an elaborate underground drainage plan.
High Water Table- In some areas the water table is very high and this makes landscaping a very difficult task and the plants and trees on the property start rotting as the saturated soil makes it very difficult for them to get sufficient amount of oxygen. In these cases, we chalk out a plan that will balance the cost of various raised plant beds with some specialized planting and an appropriate drainage plan.
Regardless of the issue, we at J. Kanka Lawn and Landscape can handle it with the highest levels of professionalism and urgency and will provide budget-friendly solutions. Contact us on 830-613-7130 for the most suitable drainage solutions in and around Horseshoe Bay, TX.
We Provide Services to the Following Cities and Towns in TX:
Austin, TX
Horseshoe Bay, TX
Marble Falls, TX
Kingsland, TX
Spicewood, TX
Bee Caves, TX
Highland Lakes, TX
Lakeway, TX
Westlake, TX
Sunrise Beach, TX