Lawn Maintenance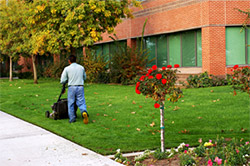 Lawn Maintenance keeps your lawn healthy and beautiful. We understand that a lawn is not just grass- it is an investment. Apart from an investment of money and time, it's also about your vision and dreams. That is what J. Kanka Lawn and Landscape keeps at the top of the priority list while creating the perfect lawn maintenance solutions for you. We understand that you want your lawn to look prefect and inviting all year-round. With our well-researched and planned services, that is exactly what we provide you. Our expert services cover:
Mowing & trimming
Lawn Fertilization
Sod replacement
Overseeding
Mulching
Core Aeration
Broadleaf Weed control
Pre-emergent Weed Control
Crabgrass Control
Pest Control
Spring & Fall Clean Up
De-Thatching or Power Raking
Expert Knowledge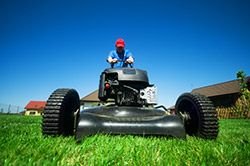 The lawn maintenance that we provide helps in keeping your grass green & lush, eliminating dandelions or clover and preventing crabgrass from rearing its head. A healthy and well-maintained lawn also helps in keeping out disease. We can customize a lawn care program for your garden/yard based on our extensive knowledge and experience in this domain. Apart from knowledge of grass, we also have a vast knowledge of soil and climatic conditions.
Numerous Factors
Lawn maintenance is about taking all these factors into consideration and also ensuring that all the irrigation and drainage solutions are in place and working in the manner they should. Just as not enough water can damage your plants so can too much water. But our expertise stretches beyond just lawn maintenance and that is what gives us the edge. We are able to take an overall view of your garden and landscape and ensure that no other factors have a negative impact on the condition of your lawn.
Tailor-Fit Services
Since our expert lawn maintenance services are specially-designed to meet the needs of your yard and garden, we create customized plans for you. These plans are based on the location and size of your lawn but typically, lawn maintenance programs call for 4-6 applications per year. We use exclusive lawn maintenance equipment that is extremely efficient. It is capable of applying lawn fertilizer & effectively treating every single inch of your lawn. Once you hire our services, rest assured that you will have the best lawn maintenance at the specified times, right around the year, regardless of whether you are at home or not.
Enjoy your Landscape
This will leave you with more spare time to relax and enjoy your weekends/vacation as you please. So, if you live in Horseshoe Bay, Cedar Park. Lakeway, Leander or any of the surrounding areas, and have noticed any detached or discolored turf or bare spots on your lawn, call J. Kanka Lawn and Landscape on 830-613-7130 without delay. We will attend to your query very promptly and provide you with our expert lawn maintenance services without delay and bring your lawn back to its original glory.
We Provide Services to the Following Cities and Towns in TX:
Austin, TX
Horseshoe Bay, TX
Marble Falls, TX
Kingsland, TX
Spicewood, TX
Bee Caves, TX
Highland Lakes, TX
Lakeway, TX
Westlake, TX
Sunrise Beach, TX