Retaining Walls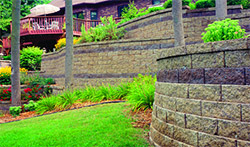 Retaining walls are specially-designed, free-standing structures that are constructed to hold soil in place. They are very effective in accommodating grade changes in a landscape that has uneven topography. Generally, these walls allow much steeper cuts to a sloping area & yield additional usable space on any cut-and-fill hillside property. J. Kanka Lawn and Landscape has a great deal of expertise in creating precisely engineered walls that can effectively create driveway areas and also protect your property from soil erosion.
Retaining Walls are essentially a long-term investment. It is possible to change sod and planting every few years but walls are an almost permanent construction. When you hire our expert services, we build walls that will last forever. Not only will they be structurally sound, but will also be built very artistically. They will complement the rest of the landscape and we take care to use materials that will blend in well with the rest of the elements.
Other Functions
Retaining walls can also be used on level ground to raise the living spaces on your property, above the surrounding plain. Well-designed retaining walls can effectively elevate planting areas & automatically create improved drainage. Simultaneously, they can be used as seat walls. In short, the functionality that these walls provide is endless. When we build these walls for you, we do not cut any corners and it is important that you do not pick contractors with the cheapest quotes.
High-Quality Structures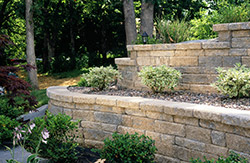 Anyone who promises to provide you with cheap retaining walls will definitely compromise on the quality of materials and skilled labor. This in turn, can compromise the integrity of the structure, cause damage to your property and become a safety hazard as well. The soil that the retaining walls hold back also holds water and carries a lot of pressure. We have extensive knowledge of the local soil and climatic conditions and can build walls that are strong and ones that will be able to effectively weather the elements.
Fine detailing
We pay a lot of attention to details such as drainage structures & waterproofing which ensures that the walls survive over time. Our landscape designers & engineers work in tandem to build the most stable and well-designed retaining walls. We use all the right kinds of reinforcement, calculate all the loading very precisely and stick to all the local building norms. We survey the entire area where the walls have to be built and pay special attention to the spaces where slopes are unstable.
In some places we also build retaining walls with wood but the concrete ones are popular as it is a single-wall construction, provides optimum strength and covers smaller surface areas. Even as we pay attention to aesthetics, we never lose track of the fact that at the end of the day, retaining walls are powerful structures that have to function as designed. Contact J. Kanka Lawn and Landscape on 830-613-7130 for the most stable and attractive walls today.
We Provide Services to the Following Cities and Towns in TX:
Austin, TX
Horseshoe Bay, TX
Marble Falls, TX
Kingsland, TX
Spicewood, TX
Bee Caves, TX
Highland Lakes, TX
Lakeway, TX
Westlake, TX
Sunrise Beach, TX