Fire Pits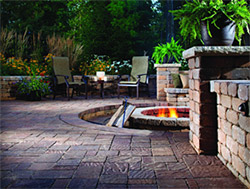 There are numerous elements that add charm and beauty to your landscaping and adding fire pits is an amazing way of adding perspective to open spaces around your home. They extend the enjoyment of your garden/ yard for your family and guests and provide warmth & light. They are also a cooking source and add an ambiance that is hard to ignore. Any area that has a fire pit becomes a natural gathering spot for relaxation, entertaining and socializing.
The Right Effect
Fire pits also act like as focal points in a landscape and they can be placed at a spot that is easily visible from the indoors. This ensures that the visible effect stretches to the other living areas in your home. J. Kanka Lawn and Landscape can provide you with the most attractive and cost-effective fire pits. We have a number of satisfied customers in Horseshoe and the surrounding areas like Cedar Park, Leander and Lakeway. When we carry out the installation, we focus on design, concept, shape and styling. We also ensure that the materials we use to match with the rest of the surroundings and complement the look of your home. This provides a very cohesive look to your property.
Customized Designs
There are a variety of fire pits to choose from and you can opt whether you want a portable one or one that is built into the yard. We can install brick, stone or concrete fire pits for you, based on your specific requirement. We also believe that when it comes to the shape and size of a fire pit, there are no boundaries. We can provide you with standard rectangular, square or circular fire pits or any other shape you want them to be. With us, the focus is always on customization and we aim to please.
The size of the pit you choose will be based on a number of different factors. The primary aspect that this will be dependent on, is the actual space that is available in your garden or yard. We will also take into consideration the number of people you plan on entertaining and will factor in the outdoor seating space. We will take these and many other factors into consideration and plan the most elaborate and well-detailed fire pits and surrounding spaces for you.
Fuel Options
In addition to the size, styling and placement of the fire pit, you will also have to decide the fuel option you plan on using. You can choose between wood, gas, propane and ethanol. Wood is now not permitted in many municipalities and we can help with the installation of the gas lines that can be extended out from your home. J. Kanka Lawn and Landscape will keep space availability, building codes and & safety in view and create the best fire pit on your property. Simply call us on 830-613-7130 for the highest-quality pit facing materials, heat absorbent and decorative filling-materials like recycled glass, lava rock or river rock and the most attractive fire pits.
We Provide Services to the Following Cities and Towns in TX:
Austin, TX
Horseshoe Bay, TX
Marble Falls, TX
Kingsland, TX
Spicewood, TX
Bee Caves, TX
Highland Lakes, TX
Lakeway, TX
Westlake, TX
Sunrise Beach, TX