Landscape Design & Installation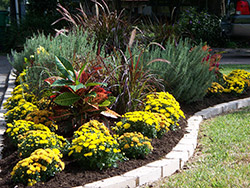 A well- planned landscape can very inspiring. It provides a sense of balance and awe and creates a very beautiful zone around your home. It can lift your spirits and will encourage you to spend more time outdoors. In addition, it adds to the curb appeal and value of your home and becomes a value-add to the neighborhood too. But landscape design & installation is much more than planting a few trees and laying some sod. It takes a lot of creativity and planning to get the design of a garden or yard right.
Unrivaled Expertise
There are numerous aspects that have to be taken into consideration and various elements that have to be incorporated into the landscape to make it perfect. The expertise and experience that J. Kanka Lawn and Landscape bring to the Horseshoe Bay area are unparalleled and some of the most stunning and beautiful landscapes in the area have been designed and installed by us. We are unrivaled in the methods and products that we use in landscape design & installation.
The Best Materials & Services
Be it hardscape materials like stone, brick or pavers or softscape material like lawns and plantings- we procure only the best. We also use additional decorative elements like water features or other outdoor structures like pergolas and gazebos, as required to create the perfect landscape on your property. Years of experience in this field has given us a very strong understanding of the designing concepts and how all the aspects of landscaping work. We have certified skilled and expertly-trained landscape design specialists on board and the best installers too.
Maintenance Aspects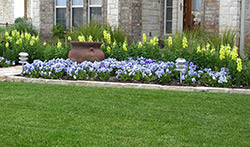 Professionalism, efficiency, punctuality and expertise form the basis of our services. When you call us for your landscape requirement, we survey the area and understand what your specific needs are. We also take into account the budget that you will be comfortable working on and provide the best solutions within that budget. We also suggest effective alternatives that can make the entire project cost-effective. Our focus is also always on landscape design & installation that is low maintenance. In the long run, this can save you a lot of money on upkeep costs.
Local Knowledge
Every homeowner has a vision with reference to their landscaping and we use all our faculties to bring that vision to life. We combine all the softscaping and hardscaping elements and create spaces that will be a tribute to your good taste and style. We also take a lot of care to choose plants and trees that will thrive in the climate that exists in Horseshoe and areas like Lakeway, Leander, and Cedar Park. Call J. Kanka Lawn and Landscape on 830-613-7130 for a consultation and quote.
Every area has certain climatic and soil characteristics and creating successful landscape installation is a lot about understanding these factors. Since we have been working in the area for years, we know exactly what kinds of plants will grow well here, the kind of soil that is required and what the water requirements will be. Look no further for all your landscape design & installation needs.
We Provide Services to the Following Cities and Towns in TX:
Austin, TX
Horseshoe Bay, TX
Marble Falls, TX
Kingsland, TX
Spicewood, TX
Bee Caves, TX
Highland Lakes, TX
Lakeway, TX
Westlake, TX
Sunrise Beach, TX