Irrigation & Sprinklers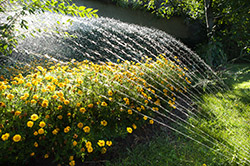 Most homeowners are not aware that a well-planned & properly functioning irrigation and sprinkler system is crucial for any garden- large or small. Since most sprinklers are almost invisible, until they actually turn on, it is very easy to forget exactly how important they are in keeping the landscape looking fresh. But anyone who has had to live without automated sprinklers for even a few days will realize what their value is. It can be very time-consuming and tiring to hand-water a garden or yard of any size and is not something that busy folk can do.
The Effective Systems
A professionally-installed irrigation and sprinkler system will effectively provide the right amount of water for your plants / lawn on schedule. We at J. Kanka and Landscape have extensive experience with the installation of sprinklers and all kinds of irrigation systems and have very successfully designed and installed these in hundreds of homes in Horseshoe Bay and its surrounding areas. Every landscape has different irrigation requirements and the solutions that we provide are always customized. We take into account the layout of the land and the number of plants on the property; In addition, we look at the positioning of the lawn before planning a perfect watering system for you.
Types of Irrigation Systems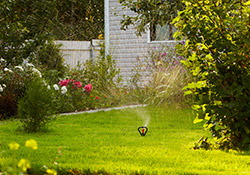 Drip irrigation and overhead sprinklers are the 2 types of systems. Conventional sprinklers are very commonly used for lawns, and drip lines are ideal for watering garden beds. Before you zero-in on the type of irrigation system that you need, that are some aspects that have to be taken into consideration. The water requirements of trees and shrubs and lawns are all completely different. When we install the landscape for you, sprinklers and the entire irrigation system will be part of the overall installation.
Customized Solutions
On the other hand, if you need a watering system in your existing landscaping, we can do that expertly for you too. We also make sure that the system is scalable and if you plan on planting more trees or shrubs in the future, we can easily add to the existing one. We take great care to get the right emitters or heads and set them in the proper location. We also help in the maintenance of the systems that have already been installed. Maintenance is very important as it helps in keeping waste to a minimum. The most common sign of water wastage is run off and wet walkways.
Expert Services
If you have noticed any of these signs on your property, it is an indication that there is a fault in the design of the sprinklers or irrigation system or that it is not suited to the shape or size of your lawn. Call J. Kanka and Landscape on 830-613-7130 for a consultation and quote today. While fixing these problems, we also evaluate the system and tell you how it can be made more effective and efficient. We have been serving Horseshoe Bay and the surrounding areas such as Lakeway, Leander, and Cedar Park with our professional irrigation and sprinklers services for several years.
Irrigation in Texas is regulated by the Texas Commission of Environmental Quality, PO Box 13087, Austin, Texas, 78711-3087. J.Kanka Lawn and Landscape, LI # 15494
We Provide Services to the Following Cities and Towns in TX:
Austin, TX
Horseshoe Bay, TX
Marble Falls, TX
Kingsland, TX
Spicewood, TX
Bee Caves, TX
Highland Lakes, TX
Lakeway, TX
Westlake, TX
Sunrise Beach, TX